Thanks to a wonderful donation from a faithful listener, we have been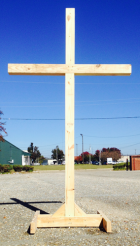 provided a limited number of seven-foot wooden crosses for us to distribute to our listeners!
The donor has recommended that Faith Radio receive a generous financial donation for each cross. This donation helps Faith Radio continue to spread the Good News of Jesus Christ and the crosses are great visual displays of the Christmas message.

Below, you can reserve your cross to be picked up at First Presbyterian Church in Dothan on Thursday, December 9 from 12 noon until 5:00 p.m.