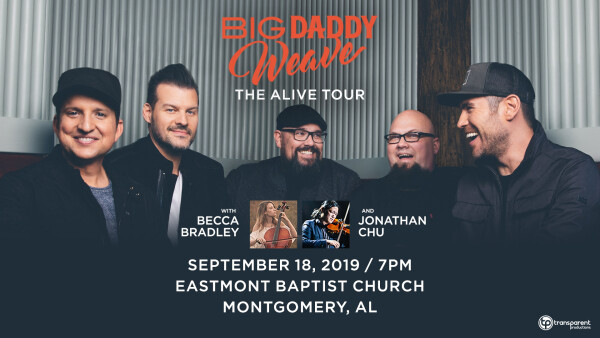 Big Daddy Weave will be in concert on the "Alive" Tour at Eastmont Baptist Church in Montgomery on Wednesday, September 18 at 7:00 p.m. You can learn more through FaithRadio.org.
You can register to win a set of 2 tickets for the concert by filling out this form. Winners will be announced during the final week of August. Please enter by 12 noon on Thursday, August 29. One entry per family, please!! Please click here to register.
***CONTEST RULES***
1) Contests are offered on-air and/or online and promoted through Faith Radio and FaithRadio.org. Contests are also possibly promoted through associated publications and social media.
2) Contest entrants are allowed to win once every 30 days.
3) One entry is allowed per immediate family.
4) Members or immediate family members of the Board of Directors and Staff of Faith Broadcasting, Inc. are not eligible to participate in Faith Radio contests.